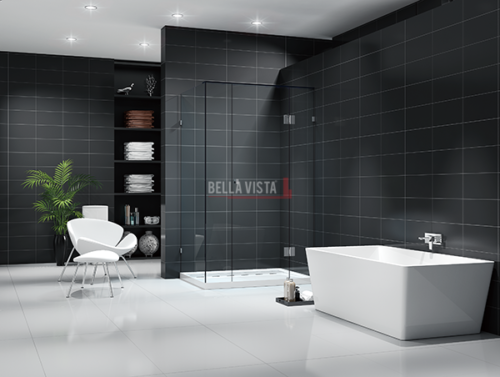 Bella Vista Bathroomware's Australian Standard glass offers a determinable difference and peace of mind of a quality fitting for your bathroom design. This high-quality product not only is carefully produced and tested to ensure longevity and premium quality, but it looks sensational too. Bella Vista Bathroomware guarantees its products, so much so that it offers the following assurance:
The Bella Vista Bathware Difference
25-year warranty is supplied on all frameless glass if installed by Bella Vista Bathroomware
Bella Vista Bathroomware provide service calls and back-up support
Bella Vista has invested heavily in research and development, and hold multiple patents
The factory holds approximately 30,000sqm of processed and packaged glass ready for quick delivery and turn around instead of waiting for lengthy production times
Bella Vista Bathroomware are able to not only supply but also install glass for across Melbourne
Bella Vista Bathroomware is an Australian-owned and operated company for peace of mind
Bella Vista Bathroomware is also exports glass to New Zealand
Quality Control

Bella Vista Bathroomware's glass starts life as a raw material that is turned into float glass. Processed in an Australian Standard-approved factory to meet the company's high standards, it is then toughened for a durable and safer product. Following this process, the glass is meticulously checked for chips, scratches, bubbles, straightness and shape. We make sure all edges are straight and square, which enables us to achieve tight gaps. If there are any issues, we discard the glass. After our quality checks, all glass is carefully and individually packaged ready for installation.
Customer Service

Bella Vista Bathroomware is also always available to assist customers for ongoing questions or on the rare occasion there is an issue.